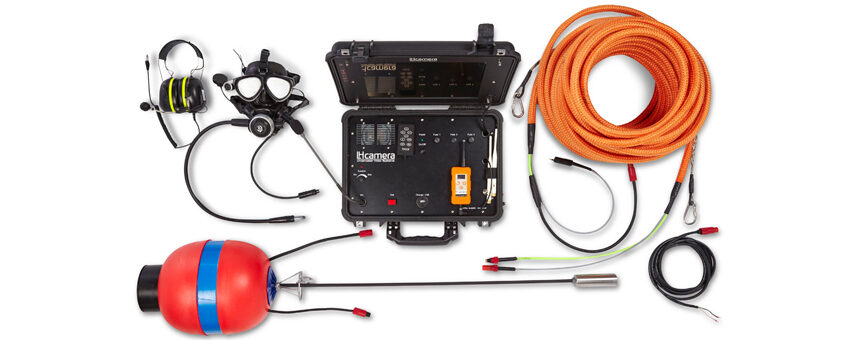 Trådløst video/com-system
I 2014 blev LH Camera kontaktet af et norsk firma, som ønskede at få udviklet et trådløst video-/kommunikationssystem til deres dykkere. Opgaven gik ud på at levere et system, der skulle kunne levere video og kommunikation mellem et antal dykkere i vandet og en overfladebåd, så alle kunne kommunikere med hinanden. Hver enkelt dykker skulle have et videokamera monteret, så overfladebåden kunne se liveoptagelser fra hver enkelt dykker. Systemet skulle samtidig opfylde sikkerhedskravene til erhvervsmæssig dykning.
På baggrund af projektet glæder det os nu at kunne løfte sløret for en verdensnyhed: Et system med en overfladestation med indbygget trådløs dykkertelefon, som kan sende til og modtage fra hver enkelt dykker i en afstand af op til ca. 500 meter, samt trådløse videosignalmodtagere med en rækkevidde på ca. 100 meter fra hver dykker, som kan vises på en monitor med split skærm-funktion. Alle dele er monteret i en transportabel video/com-kuffert med styrepanel til video og kommunikation.
Hver enkelt dykker er udstyret med fullface-maske med tale/lytte-modul plus holder til undervandsvideokamera. Video og kommunikation bliver overført via en livline med kabel og flydeindlæg, der er monteret i dykkerens harness og forbundet til en flydende vandtæt overfladebøje, hvori der er monteret sendeudstyr til video og kommunikation.
Systemet er beregnet til erhvervsmæssig dykning, hvor man har brug for at udføre en sikker undervandsopgave uden overfladeforsyning og samtidig opretholde kommunikation og overføring af livebilleder til overfladen.
  Tekniske data på trådløs video/com-system  
Overfladestation-kuffert med indbygget 15″ sollyslæsbar monitor med split billede-funktion af 4 dykkere. Indbygget speaker push to talk samt højtaler. Indbygget trådløs com-enhed og trådløs videomodtager med mulighed for tilslutning af ekstern antenne. Mulighed for indbygning af videooptager.
Robust overfladebøje med vægtpendul i rustfrit stål, der giver god stabilitet, samt øje med karabinhage til tilslutning af dykkerlivline. Indbygget vandtæt beholder med trådløse sendere til video- og dykkerkommunikation. Genopladeligt batteri med en driftstid på ca. 2 timer til videokamera og 10 timer på dykkerkommunikationen.
Dykkerlivline, hvori der er kabel til video og data (til f.eks. dybdesensor) samt separat kommunikationskabel. Begge kabler er monteret med stikforbindelser til kamera og tale/lytte-modul samt subconn-stiktilslutning til overfladebøje. Kablerne er flettet i en polypropylene-strømpe, som har en brudstyrke på 380 kg. I strømpen er der flydeindlæg, så linen er positiv i vand.