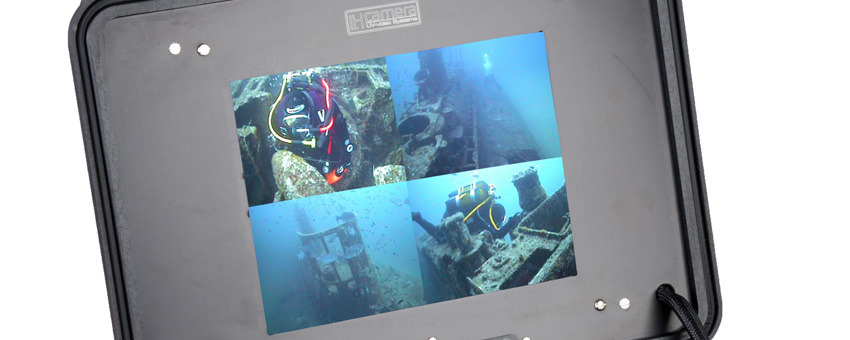 Professional Underwater Video Solutions
Underwater Camera for Monitoring
Underwater Camera for Top Swimming Coaches
Underwater Camera for Underwater Rugby
Inspection of Aquaculture and Fish Farming
Video Case for Multiple Underwater Camera Connections
This solution is for the user who needs to have multiple underwater video cameras connected to the same monitor. LH Camera has developed a new system where the user has the option of connecting up to four underwater cameras to the same case. With the new, integrated video split processor you now have the option of creating the screen setup that fits the number of cameras connected to the case. For example, if you connect three cameras you can choose a setup where all three video images are displayed simultaneously in the same size on the screen.
The case has an integrated 12.1" monitor in the lid. It comes with both a sunlight viewable monitor and the normal high brightness 450 cd monitor. All our integrated monitors in the cases are equipped with protective glass over the screen.
Two BNC video outputs are installed in the unit for direct connection to a video recorder where it is possible to record several split images and one image in full size.
This is a portable solution which is extremely well-suited for video monitoring and inspection when you need to follow several underwater cameras at the same time.
The case has an integrated 4500 mAh 12 V rechargeable battery pack with an operating time of approx. 3 hours. (A battery pack of up to 9000 mAh can be built in upon request). A 220 VAC charger is included.
All individual parts come in carved-out shapeable foam.
A handy and robust product that is easy to transport to where you want to perform an inspection under water.
World Championship in Freediving
LH Camera provided an underwater video system to the World Championship in long-distance freediving in a pool in 2009. The system included a video case with a 4 x camera connection. Underwater video cameras where put up in different places in the pool so that the audience could follow along on a big screen in the swimming arena.
With such a new system it is suddenly possible to make such sports audience-friendly. Using underwater video cameras will also provide a whole new perspective for sports such as underwater rugby, professional swimming and diving.