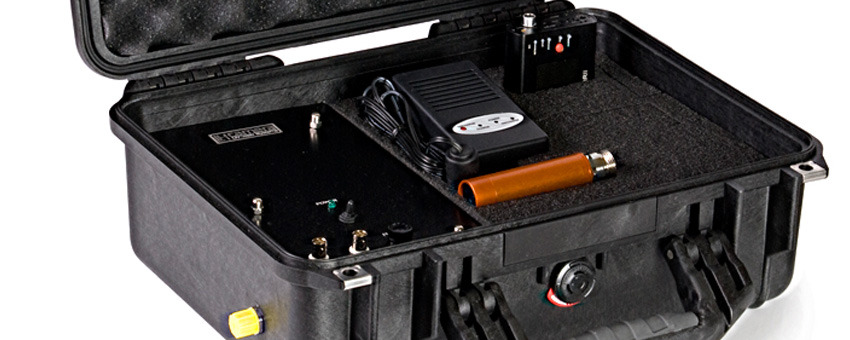 Professional Underwater Video Inspection
Inspection of the Seabed
Inspection of Port Facilities
Inspection of Aquaculture and Fish Farming
Inspection of Swimming Pools
Inspection of Ships

Sunlight Viewable MonitorThe solution for the user who only wants the best. This is a portable solution that is very suitable for performing underwater video inspections where the user wants it – e.g. for inspecting port facilities, seabed studies, aquaculture etc. The case comes with a 12.1" integrated sunlight viewable TFT screen in the lid. The screen is specifically designed for outdoor use and will regulate automatically according to the surrounding light conditions. You will get a user-friendly complete product for underwater video inspection where everything is contained in a waterproof/shockproof portable suitcase ready for use. It comes with a BNC video output for direct connection to a video recorder. The case has an integrated 4500 mAh 12 V rechargeable battery pack with an operating time of approximately 3 hours (a battery pack of up to 9000 mAh can be built-in upon request). A 220 VAC charger is included. All individual parts come in carved-out shapeable foam.

A handy and robust product that is easy to transport to where you want to perform an inspection under water.

Video Case
The same case as the sunlight viewable type but with an extra BNC output for an external monitor. This solution can be used in situations when you want to send the video signal to an external monitor/projector. The video case is used by e.g. swimming coaches for rehabilitation and teaching.

E.g. a wireless transmitter can be connected to the case, which transmits the video signal wirelessly to an external receiver and monitor. A video server can also be attached and the underwater video camera would then function as a webcam where the user can login via an IP address and see the recordings from the camera on the internet.