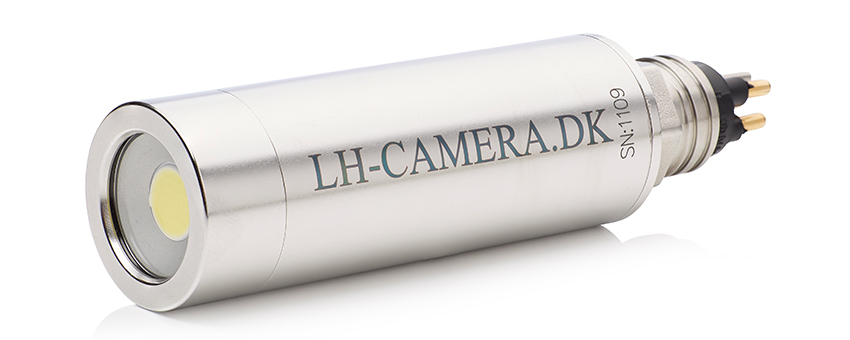 Subsea Video LED Lamps (Underwater Lights)
LH Camera has a professional selection of underwater Subsea lights that provide the best conditions for filming and taking perfect pictures in camera-hostile surroundings. In the last couple of years, a number of new light technologies for diving have appeared and LH Camera is part of that wave. We offer video lamps and video lights with unsurpassed light spreading for recording with underwater video cameras or underwater cameras. Our underwater lights are based on the newest technology, light up the dark effectively and bring out the colors in even the smallest detail.
Perfect Light below the Surface of the Sea
We offer a line of high quality LED lamps made of AISI316/anodized aluminum or Pom. The line is particularly well-suited for use as video lights with our underwater video camera and consists of different types of lamp heads with different power wattages as well as an umbilical cable and different types of battery packs. The high tech underwater light from LH Camera is still the experts' preferred choice and we have several interesting solutions that fit different needs. Contact us and together we will find the perfect solution that will meet your requirements.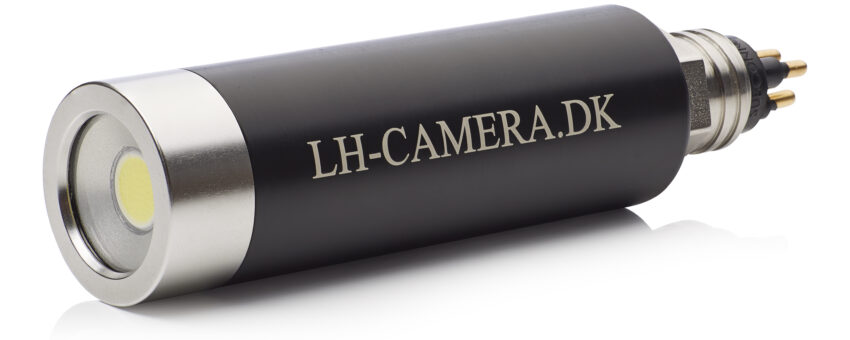 Compact LED Lamps for Subsea Video
Brand new range of compact subsea LED lamps. Ideal for professional diving and subsea inspections and other documentation tasks. Our range includes different variants of compact products to match a wide variety of uses.
All our LED lamps have built-in thermal protection. The lamp automatically switches off if it overheats and switches on again when it has cooled. Available as spotlights and floodlights that provide maximum light spread. Light intensity from 1500-2600 lumen, depending on model. Optional stepless adjustment of light intensity with our dimmer module. Compatible with a wide range of power supplies from 12~32 VDC. Fitted with stainless steel Subsea connector MCBH3MSS.
Lamps available in three variants:
LED 1900 Flood-316
LED 1900 Flood-Alu 
LED 1500 Flood-Pom
Functions and benefits
Compact subsea LED lamp
Spotlight or floodlight
Integral thermal protection
Lightweight subsea LED lamp
Stepless adjustment of light intensity
Wide power supply range
Applications
For professional diving applications
Subsea inspection work
Fish farming applications
ROV systems
Subsea observatory systems
Trawl camera systems
ROV Video lamp with powerful LED Video light
Underwater Lights with Powerful LED Video Lights
LH Camera has developed a professional Subsea video lamp with a powerful light of up to 1800 lumens and a video light spread of a full 120°. The video lamp comes in a dimmable version with a Subconn connector installed. The lamp is pressure tight to 50 bar. In addition, LH Camera offers two types of light heads with powerful LED video lights for perfect recordings in the darkness of the ocean. LED 1500 has a diffuse conversion lens, and LED 4500 has a 110° spread of the parabola that gives off an amazingly wide underwater light without a cone effect.  The video lamp comes in a dimmable version and with a Subconn connector installed. It is pressure tight to 500 meter depth.
TECHNICAL SPECIFICATIONS:
Diameter 45 mm. Length 125 mm. Window/Lens Borosililicate glass.
The video lamp is made of hard anodized aluminum 6082 and AISI 316 stainless steel.
Power up to 1900 lumens.
Parabola wide angle 120°
Color temperature comes in 4000 and 6500 Kelvin.
Comes with smoothly adjustable light intensity.
Voltage from 12~24 VDC.
Can be installed with different types of Subconn micro connectors.
Pressure tight to 50 bar.