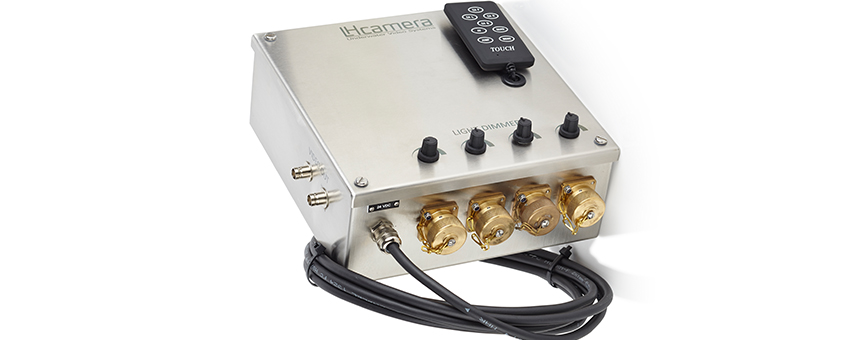 Video control boxes for fixed installation
LH Camera builds customized video controller boxes with various optional integration modules, for use in a wide range of industries.
Commercial Diving
Ocean Research
Offshore
Wind turbines
Marine fish farming
Video control boxes for Analog and HD-video solutions
LH Camera builds customized video controller boxes with various optional integration modules.
The video controller box is intended as a fixed installation on board a ship, in a dive truck or mounted on a rack in a diving container. By using different modular constructions we can tailor-make a solution that fits your need, from easy and simple solutions to more advanced solutions.
All video controller boxes come with integrated multi-connector for attaching cables and come in multi-pole sizes and types. BNC video outputs for connecting an external monitor and a 230/24 V power supply with a plug connection for a switch box.
List of the various integration options
Smooth light dimmer
Multiple camera input for up to 4 cameras
Text overlay with depth and GPS input
Camera adjustment in real time
USB Video Recorder
USB video capture for connection and recording of video on an external PC
Audio input from diver's telephone
Smooth Light Dimmer
Regulate video light smoothly from the video controller box panel.
Multiple Camera Input
Connect up to 4 underwater video cameras to the switch box where you have the option of different screen setups by using the panel remote control. You can choose 4 split images, 2 split images, full screen image or picture-in-picture display on the monitor.
Set up of Text Overlay on a Monitor
Display the current GPS position and depth as well as date/time in the video image. If you connect a USB keyboard you have the option of writing up to 26 characters on the screen image.
Camera Adjustment in Real Time
Underwater video camera with manual adjustment directly from the surface in real time via a built-in module in the video controller box where you can adjust and control the camera's settings via remote control. E.g. white balance, closing speed, colors, contrast, brightness, light, digital zoom, backscatter, LCD/CRT screen setting. With this solution you can trim and adjust the camera according to the actual visual and light conditions in the water
USB Video recorder

USB recorder which can easily, quickly and efficiently perform documentation work on the water. LH-USB recorder stores all recordings (audio and images) directly on a USB device.
USB Video Capture to PC
This gives you the option of connecting your PC/laptop computer to the switch box via a USB connection so that you can record and see video images on your PC. You can also record sound from an external diver's telephone.
Customized solutions
LH Camera develops special solutions in close cooperation with our customers, from initial drawings to the finished project.
Over the years, LH Camera has provided many exciting underwater video solutions to a wide variety of customers.