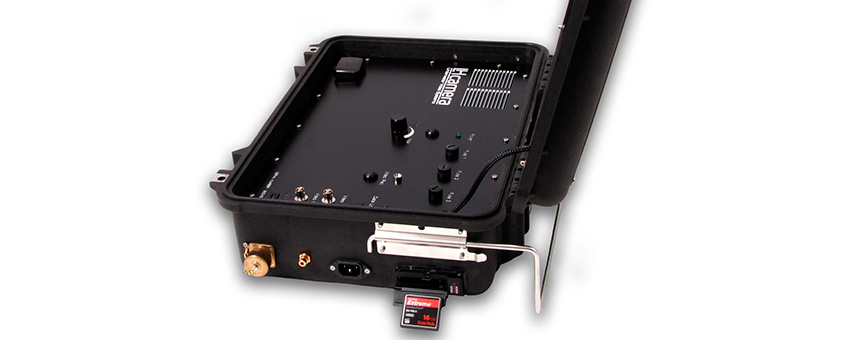 Video Case Systems
LH Camera provides different customized video case solutions for a wide variety of inspection purposes using underwater video, e.g.:
Commercial Diving
Ocean Research
Offshore
The Fishing Industry
Subsea
The video cases come in three sizes:
XL 17″ sunlight viewable monitor measuring L 52 cm, W 43 cm, H 21 cm
L 15″ sunlight viewable monitor measuring L 47 cm, W 36 cm, H 18 cm
M 12″ sunlight viewable monitor measuring L 41 cm, W 33 cm, H 17 cm
LH Camera provides different integration modules in the video cases depending on what the customer wants. The selection of the size of the video case depends on what type of modules you want built in. Our XL video case can contain all integration modules.
All portable cases are made from shock, water and dust proof plastic. A sunlight viewable monitor is integrated into the lid of the case so that you can read the monitor outdoors and in sunlight.
In case sizes XL, L and M 2, BNC video outputs are installed in the panel so that you can connect an external monitor/video recorder. Multi-outlets for cable connection and the option of different pole sizes, depending on what modules you choose.
A brief description of the different types of modules that can be built into the video cases:
Camera Adjustment in Real Time
Underwater video camera with manual adjustment directly from the surface in real time via an integration module in the video case where you can adjust and control the camera settings via remote control. E.g. white balance, closing speed, colors, contrast, brightness, light, digital zoom, backscatter, LCD/CRT screen setting. With this solution you can trim and adjust the camera according to the actual visual and light conditions in the water.
Professional Video Recorder
A video recorder that is built into the side of the video case with a waterproof slot for a CF memory card as well as an audio input for connecting an external diver's telephone. Video and audio can be stored in different recording qualities on a CF memory card up to max. 128 GB and can subsequently be burned directly onto a DVD medium.
Multiple Camera Input
Connect up to 4 underwater video cameras to the video case where you have the option of different screen setups by using the remote control from the case's panel. You can choose 4 split images, 2 split images, full screen image or picture-in-picture display on the monitor.
Setup of Video Overlay on a Monitor
Display the current GPS position and depth as well as date and time on the video image. If you connect a USB keyboard you have the option of writing up to 26 characters on the screen image.
Video Server
Send underwater video live directly from the video case to the internet via a LAN connection. This option makes it possible for you to connect your video case to an internet connection and send video and sound live over the internet. A customer or researcher can log on to the video case via an IP address and follow the recordings directly in real time.
Wireless Sender and Receiver
Send video and audio wirelessly across the water from the video case's built-in transmitter to a receiver antenna. The receiver system has a range of 100 – 500 m depending on the antenna.
Smooth Light Dimmer
Regulate video light smoothly from the video case panel.
Black Box Data Logger
LH Camera has developed a data logger that can be integrated into video cases, which can collect data from a number of sensors e.g. depth-temperature-oxygen or salinity. The logger can also register data from the video overlay with GPS position and date/time. Via the push button on the case panel (or via a remote control) you can insert your own event markers which will be registered in the logger. All data is downloaded from the logger with a USB interface and associated software program.
Diver's Telephone
For case sizes L and Xl, there are 3 types of diver's telephones that can be integrated:
Type 1: 1 x diver connection – 1 tender headset connection – 1 x external speaker connection – 1 x audio rec. output.
Type 2: 1 x diver connection – 1 tender headset connection – 1 x external speaker connection – 1 x audio rec. output. Speaker installed in the case panel.
Type 3: 2 x diver connection – 1 tender headset connection – 1 x external speaker connection – 1 x audio rec. output. Speaker installed in the case panel.
Battery Supply
The standard for all our video cases is that they run on 230 VAC, but we can provide different types of rechargeable battery packs depending on how long an operating time you want for the system.
Special wishes
LH Camera also provides customized solutions where we develop equipment and systems in close cooperation with the customer.
We cooperate with a wide variety of partners in e.g. electronics, IT and the video industry so no task is too small or too big for us.