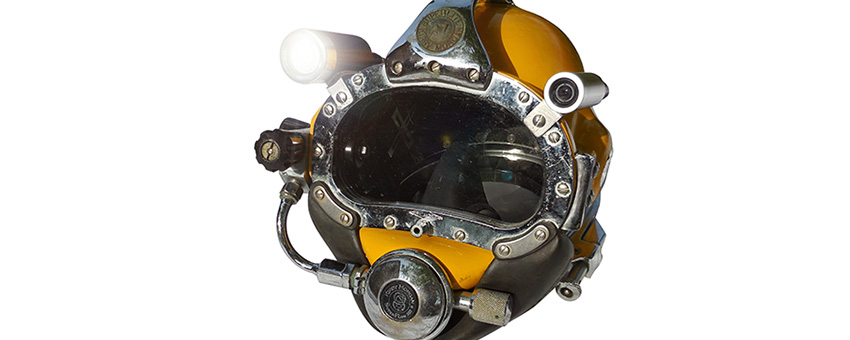 Model Pro
LH Camera has a large amount of specialist knowledge when it comes to the best commercial diving camera for complicated work under water. Our commercial diving camera is perfect for many industries in the maritime world, because it is made of robust materials that meet all the requirements for working safely under water. Technology and functionality are paramount in our commercial diving camera model Pro. It is a top-of-the-line color video camera with a Subconn micro connector, high light sensitivity and extreme wide angle optics (0.1 lux, 92 degrees).
The Specialists' Preferred Choice
Our commercial diving camera model Pro is mainly used by commercial divers, offshore divers and underwater inspectors, usually in combination with ROV equipment. It is recognized among commercial divers for its high quality and stability when performing special tasks and professional underwater work under dark and cold conditions and under difficult conditions. A model Pro commercial diving camera provides you with the best equipment for the job and first class photo and video equipment ensure the best possible documentation.
Commercial Diving Camera with Several Functions
The video head for the commercial diving camera model Pro comes in two versions:
Diver Pro – a professional HQR color video camera
Diver 90 degrees – an advanced color video camera with a Subconn 90 degree connector.
Both types of commercial diving cameras have been pressure tested to 50 bar. The camera itself is filled with nitrogen to avoid condensation in the optics.
On demand, LH Camera can custom-make a commercial diving camera with a powerful wide angle of 120 degrees and a pressure capacity down to 200 bar. Please contact us and tell us about your requirements and needs; then we will find a solution that fits you.
Real-Time Adjustment of the Camera
An underwater video camera with manual adjustment directly from the surface in real time. The adjustment is performed via an integration module in the video case/video controller box where you can adjust the camera's settings via a remote control, e.g. white balance, closing speed, colors, contrast, brightness, light, backlight, backscatter and LCD/CRT screen setting. With this solution you can trim and adjust the camera according to the actual visual and light conditions in the water.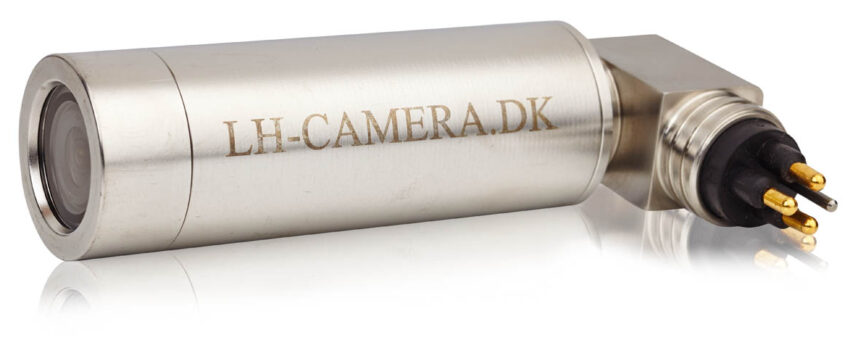 Lightweight Subsea Video Camera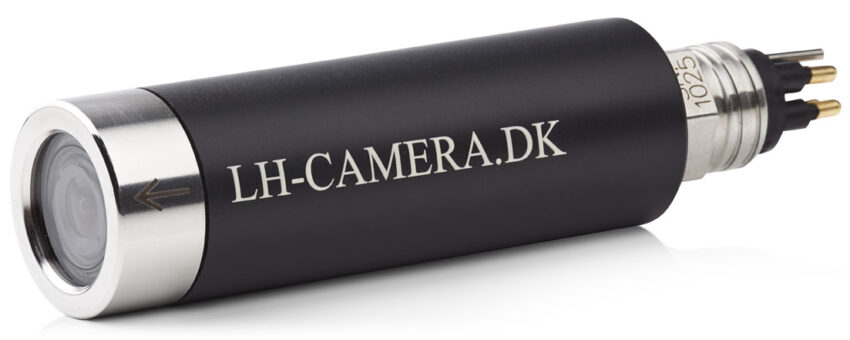 Lightweight Subsea Video Camera
Professional lightweight subsea video camera, colour, with fisheye lens and SubConn® Micro connector with 4 contacts. Weighs only 125 g. Ideal for mounting on a professional full-face diving mask.
TECHNICAL SPECIFICATIONS: 
• Camera housing POM and AISI 316 steel. Borosilicate glass window
• Length 128 mm, diameter Ø 30, weight 125 g
• Image sensor 1/3″ Sony EXview Super HAD colour CCD chip
• High-grade light sensitivity and extreme wideangle lens 0.1 Lux, 120° fisheye
• Image resolution: 800 TVL, effective pixel 976H x 582V PAL
• Automatic white balance 2100~8200 K
• Shutter speed 1/50~1/100,000 sec.
• SubConn® Micro connector with 4 contacts
• Optional real-time camera adjustment using LH Cam Remote Control unit
• Watertight at depths of up to 100 m