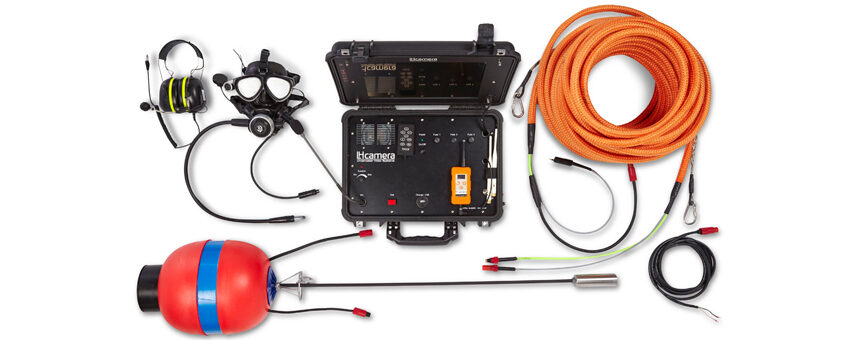 Wireless Video/Com System
In 2014, LH Camera was contacted by a Norwegian company that wanted to have a wireless video/communication system developed for their divers. The assignment was to deliver a system that could provide video and communication between a number of divers in the water and a boat on the surface so that everybody could communicate with each other. Each individual diver would have a video camera installed so that the boat on the surface would be able to see live recordings from each of them. At the same time, the system would have to meet the safety requirements for professional diving.
Based on that project, we are now pleased to make a world-class news announcement: A system consisting of a surface station with an integrated wireless diver's telephone, that can send and receive from each individual diver at a distance of up to approximately 500 meters, as well as wireless video signal receivers with a range of approximately 100 meters from each diver, which can be displayed on a monitor with split screen function. All components are installed in a portable video/comm case with a control panel for video and communication.
Each individual diver is equipped with a full face mask with a talk/listen module and a holder for the underwater video camera. Video and communication are transferred via a lifeline with a cable and a flotation insert fitted inside the diver's harness and connected to a floating waterproof surface buoy containing transmission equipment for video and communication.
The system is designed for professional diving, where you need to perform an underwater assignment safely without surface supply and at the same time maintain communication and transfer live images to the surface.
Technical Data for the Wireless Video/Comm System  
A surface station case with an integrated 15" sunlight viewable monitor with split screen function for viewing up to 4 divers. Integrated speaker and Push-To-Talk microphone. Integrated wireless comm unit and wireless video receiver with the option of connecting an external antenna. Option of integrating a video recorder.
Sturdy surface buoy with a stainless steel weight pendulum providing stability, and the diver's lifeline has an eye with a carabiner that connects to the buoy. Integrated waterproof container with wireless transmitters for video and diver communication. Rechargeable battery with a run time of approximately 2 hours for the video camera and 10 hours for diver communication.
Diver's lifeline with a cable for video and data (e.g. for a depth sensor) and a separate communication cable. Both cables have integrated connectors for the camera and the talk/listen module as well as a Subconn connector for the surface buoy. The cables are braided in a polypropylene stocking with a tensile strength of 2,380 kg. The stocking contains a flotation insert so that the line has positive buoyancy in water.
The system is also available with an integrated depth gauge and GPS unit.